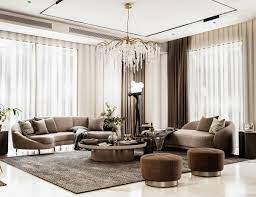 Luxury Furniture Essentials: Elevating Your Home Decor
Luxury furniture can add an unmatched elegance and sophistication to any living space. It not only maximizes the space's beauty but also adds functionality. Contemporary interior designing approaches have influenced a shift from traditional home decor to modern, sleek, and minimalist design choices. Furniture manufacturers have followed suit and developed trendy, luxurious pieces that take center stage in modern and classic homes alike. In this article, we will explore some luxury furniture trends that are making their mark in the interior design industry.
Natural materials – The world is slowly becoming environmentally conscious, and the interior design world is no exception. The trend in luxury Contract furniture design now is the incorporation of natural materials like wood, rattan, and stone in furniture pieces. These materials add warmth and texture to the home, creating a cozy and inviting ambiance. Beds, chairs, sofas, and coffee tables made from organic materials are a significant hit for homeowners. The natural materials used in luxury furniture design are not only eco-friendly but also durable.
Bold Colors – Luxury furniture trend has shifted towards bright, bold, and vibrant hues. From living room furniture to bedroom sets, brightly colored upholstery has been making a statement. Bold colors add a touch of energy and warmth to the home, making it homely and inviting. Deep reds, vibrant blues, emerald greens, and striking yellows are some of the colors making a comeback in luxury furniture design.
Industrial Chic – Industrial chic is a blend of modern and rustic furniture pieces. The focus is on the materials and their natural contours, textures, and imprints. A great example of this trend is the use of metal and iron in the design of coffee tables, chairs, stools, and bookcases. The finish of the material plays a significant role in creating an industrial chic look. A hammered metal finish or a worn-out patina is perfect for the trend.
Gold Accents – Gold and metallics have been around in luxury furniture design for a while. It is an excellent choice for adding elegance and glamour to the home. Furniture designers now lean towards gold accents to complement the natural materials used in furniture design. Gold adds a touch of luxury to the furniture without detracting from its natural beauty. Furniture designers also use gold on legs, handles, and frames to make them stand out.
Sustainable Designs – Sustainable or eco-friendly designs are not only trending in the fashion world; they are now a part of luxury furniture design. Sustainable design encompasses the use of eco-friendly materials, reducing the environmental impact of furniture production and utilizing energy-efficient methods. Furniture pieces made from recycled metals, wood, and materials are popular amongst many homeowners.
In short:
These luxury furniture trends will add elegance, sustainability, and functionality to any home. When choosing luxury furniture for your home, opt for those pieces that complement your home's style, are aesthetically pleasing, and serve a functional purpose. Whether you opt for natural materials, bold colors, industrial chic, gold accents, or sustainable designs, these luxury furniture trends will elevate your space and transform your home into a haven of elegance.